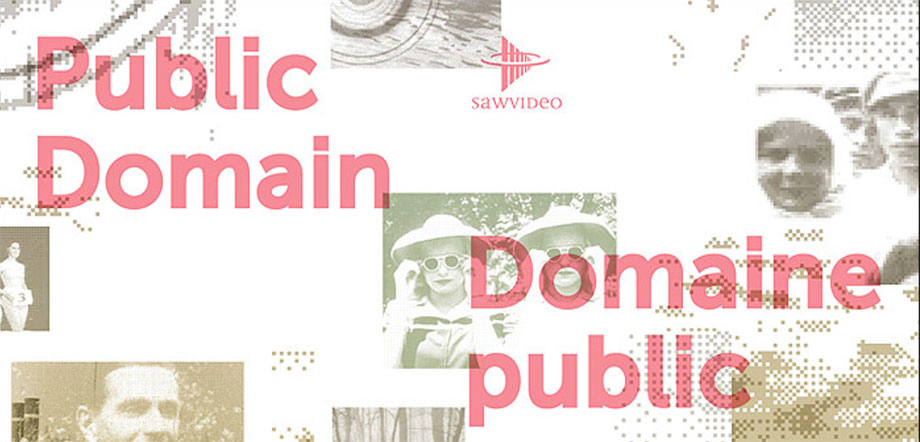 Domaine Public
---
Projet de commande d'œuvres, Saw Vidéo (pdf en français)
The PROJECT
In June 2009, SAW Video commissioned seven media artists to create new video works from public domain materials in the film/video/audio collection at Library and Archives Canada. The result is Public Domain, a program of six new videos that premiered in Ottawa June 23rd, 2010 and will tour across North America and Europe in 2011-12.
The range of mid-career and established media artists selected for this project represent a broad cross-section of media artists working in Canada. Bringing critical perspectives to bear on their found materials, the artists mine the nature of the image for its visual, narrative, mnemonic and evocative potential. While some of the resulting videos highlight the fragility and disappearance of images, others focus on their renaissance through recontextualization.
The ARTISTS
Gennaro de Pasquale (Montreal) – Vortex, 12:08
Sara Angelucci (Toronto)-The Beauty Pageant News, 8:47
Maureen Bradley (Victoria)-Beyond the Pale, 16:00
Ryan Stec/Véronique Couillard (Ottawa) – Library and Archives Canada Public Domain Reels Documenting Spots of Beauty and Interest in Ontario and Quebec Sometime Ago Remixed Today (VCRS): 19752010, 3:00
Suzan Vachon (Montreal) – chant [dans les muscules du chant], 23:32
Steve Reinke (Chicago/Toronto) – Not Torn (Asunder from the Very Start), 9:57
The TOUR
Following two screenings at the prestigious Festival international des films sur l'art (FIFA) in Montreal and at FACT in Liverpool, the long awaited tour of the commissioning program gets underway this fall [2011] with stops at six cities in Canada, the USA, and the UK.
The seven artists chosen to participate in the Public Domain project bring a range of approaches and artistic styles. Steve Reinke (Chicago/Toronto), already known for the use of archival documents in his video essays, transgresses the nature of the archival images he employs by giving them new context and meaning using a voice-over narrative. Sara Angelucci (Toronto) links the fragility and physical evanescence of the image with the volatility of memory and identity. Maureen Bradley (Victoria) employs a feminist and political approach in the form of essays which join the force of documentary images with a kind of personal docu-fiction. Gennaro de Pasquale (Montreal) collects images and sounds from multiple sources, which he then assembles in video collages according to their formal and semantic properties. Suzan Vachon (Montreal) gleans the archival collection looking for images with oneiric and evocative possibilities which she incorporates into her lyrical essay. The artistic duo Véronique Couillard and Ryan Stec (Ottawa) are particularly interested in the graphic qualities of analogue images, which they manipulate digitally using a process of live retouching and mixing that imparts a new rhythm and nature to the images.
Each night of the tour, one Public Domain artist will be on hand to discuss their work and the project with audience members.
More screenings are being planned for 2012.
Public Domain Tour 2012/13
Cambridge Galleries, Cambridge Ontario February 18th with Christopher Rohde
Zeitgeist Multi-disciplinary Arts Centre, New Orleans Louisiana March 15th with Christopher Rohde and Ryan Stec & Véronique Couillard
Eyedrum Arts Centre, Atlanta Georgia March 17th with Christopher Rohde and Gennaro De Pasquale
Halifax Independent Filmmakers Festival, Halifax, Nova Scotia April 10 with Suzan Vachon
Modern Fuel Artist-run Centre, Kingston, Ontario Feb. 26, 2013 with Christopher Rohde
Public Domain Tour / Fall 2011
Winnipeg Film Group (Winnipeg) September 21 with Steve Reinke
MediaNet @ Deluge Gallery (Victoria) September 23 with Maureen Bradley
No.w.here (London UK) October 5 with Sara Angelucci
Metro Cinema (Edmonton) October 13 with Suzan Vachon
EMMedia (Calgary) October 14 with Maureen Bradley
Visual Studies Workshop (Rochester NY) November 17 with Steve Reinke
The BOOK
Softcover book (126 pages) – $15.00 CDN
Public Domain originated as a video commissioning project of SAW Video in 2009. Seven artists from across Canada were selected to create new videos using materials held in the collection of Library and Archives Canada. SAW Video is proud to present the new Public Domain book, the media art centre's first ever full-length publication featuring new critical pieces from the Public Domain artists and new essays from archivist Caroline Forcier-Holloway and noted UK scholar Sarah Cook.
Graphic Designer: Simon Guibord
Editor: Emily Falvey
Translation: Marie-Claire Forté
Includes: Foreword: Penny McCann
Introduction: Caroline Forcier-Holloway
Essays and Photo Essays: Mireille Bourgeois, Sarah Cook, Sara Angelucci, Maureen Bradley, Gennaro de Pasquale, Steve Reinke, Ryan Stec & Véronique Couillard, Suzan Vachon
Copyright: SAW Video 2011